While some British Columbians trade their bikes for skis when winter sets in, Smithers' Sheena Miller does both. With fat tires on her bike and skis on her bike trailer, she's perfectly equipped for snowy rides.
Further south in the Comox Valley, Sue Vince doesn't usually need snow tires at this time of year, but she does relish the invigorating crisp air of winter cycling.
"When I dress for the weather, it is exhilarating to cycle in the winter months. I tend to talk to more people and feel more connected to my community," she says.
For Sheena and Sue, winter cycling is part of their daily routine, but many other British Columbians have never tried it! BC's Winter GoByBike Week Feb. 6 - 12, 2023 is a great opportunity to give it a shot. When you do, you'll not only be joining cyclists across the province, but riders around the world!
This year's Winter GoByBike Week incorporates International Winter Bike to Work Day, which is Friday, Feb. 10. International Winter Bike To Work Day has seen participation from countries such as Canada, the U.S., Croatia, Germany, and Poland, among others. We encourage BC Workplaces to create a team and motivate employees to try biking to work on Friday, Feb. 10," says Terri-Lynn Gifford, Provincial Program Director for the GoByBike BC Society.
All participating workplaces are entered into a prize draw to win tickets for the Vancouver International Mountain Film Festival and Bicycle Film Festival Virtual Worldwide!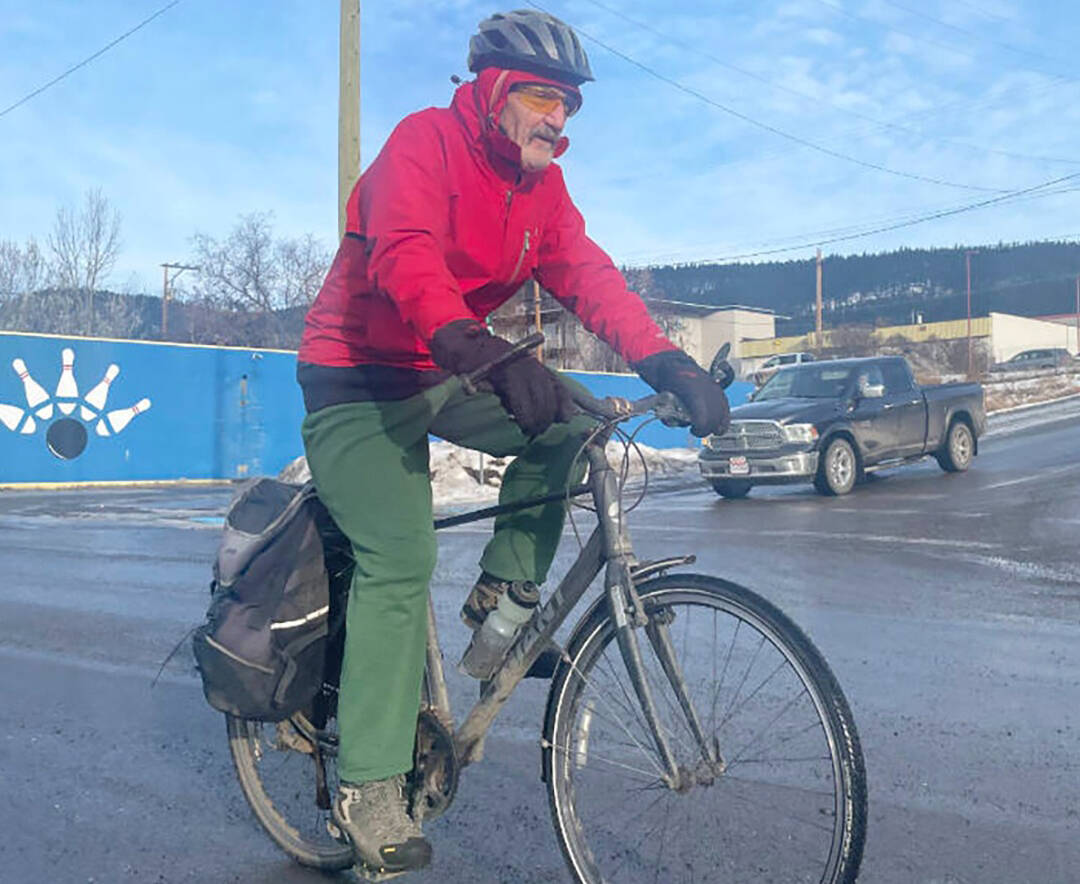 For fun, for exercise, for the planet
Stuart Westie, a retired teacher who lives in Williams Lake, started tracking his fitness in 2011, and soon started compiling an environmental audit to share with friends and family every year. In 2022, he only drove his vehicle a total of 12 days for a distance of about 700 km, while he rode his bicycle a total of 280 days for a distance of about 7,000 km!
READ MORE: Cariboo senior tracks his shrinking environmental impact for over a decade
"Biking is such a major source of happiness and fulfillment in my life," says Revelstoke's Stefan Curtis. "My mental health and physical health has never been better since I became a cyclist. I felt inspired by 2021 #wintergobybikeday and for the occasion I managed to cycle my first winter century [100 km in a single ride]. It was a chilly one and although it required a few stops to warm the hands and toes, I had an absolute blast!"

Tips for winter riding
If you've never tried biking in the winter, GoByBike BC encourages you to give it a try. Bike for exercise, stress relief, fun, or a new challenge! For those who have previous experience cycling in winter months, GoByBike BC encourages you to try using your bicycle for transportation during Winter GoByBike Week as much as possible and log all your rides to see how many kilograms of greenhouse gasses you save from entering the atmosphere.
Find Winter Riding Resources at gobybikebc.ca/resources/winter-riding-resources. From today until Feb. 6, GoByBike BC is also offering three FREE Winter Cycling Webinars — learn about winter riding and get ready for Winter GoByBike Week! Register here: gobybikebc.ca/cycling-education/webinars.
In 2022, 2,733 British Columbians participated in Winter GoByBike Week and logged 99,000 kilometers which translates to saving 21,000 kilograms of greenhouse gases from entering the atmosphere. This year, GoByBike BC hopes to inspire 3,000 people to try biking in wintertime and log all their kilometers biked at logmyride.gobybikebc.ca.
"Please log all your bike rides so that we can track how many kilograms of greenhouse gases we can save by choosing to GoByBike instead of by motor vehicle," Gifford says. "The more rides you log, the more prizes you can win!"
Log your rides for a chance to win amazing prizes:
Gift cards to your favourite bike shops
Bicycle film festival tickets
GoByBike neck warmers
A chance to win $25 Visa Gift Cards for people who log one bike ride
A chance to win $50 Visa Gift Cards for people log two bike rides
A chance to win $100 Visa Gift Cards for people who log 3+ bike rides
And more!
Learn more at gobybikebc.ca!