Members of the Surrey RCMP and Surrey Police Service, as well as heavily armed Emergency Response Team police, surrounded a house in Whalley at 8:11 a.m. Thursday responding to a weapons call. They arrested multiple people but later released them, and did not find a weapon.
It happened in the 12900-block of 104 Avenue, near Old Yale Road, involving a heavy police presence.
A Surrey RCMP spokesperson said the matter was "resolved" by 12:13 p.m.
"We didn't have any reports of injuries," the Now-Leader was told. "Everybody was released and no weapons were located."
But a freelancer on the scene said paramedics provided medical treatment to someone on the scene, for reasons unknown.
"I do not have the exact number of persons that were taken into custody at this time, but I can tell you that there were approximately 14 people inside the residence," Surrey RCMP Cpl. Vanessa Munn later said. "This is not believed to be an incident of swatting, the person who made the report is cooperating with police."
The term swatting refers to someone making a bogus emergency call to police with the intention of tricking them into sending a heavily armed force to a specific address under a false pretence. This form of criminal harassment has been known to end badly.
"There were no injuries reported in relation to the initial weapons complaint," Munn said. "One person was assessed by EHS as a precaution after being taking into police custody, but no one was transported to hospital."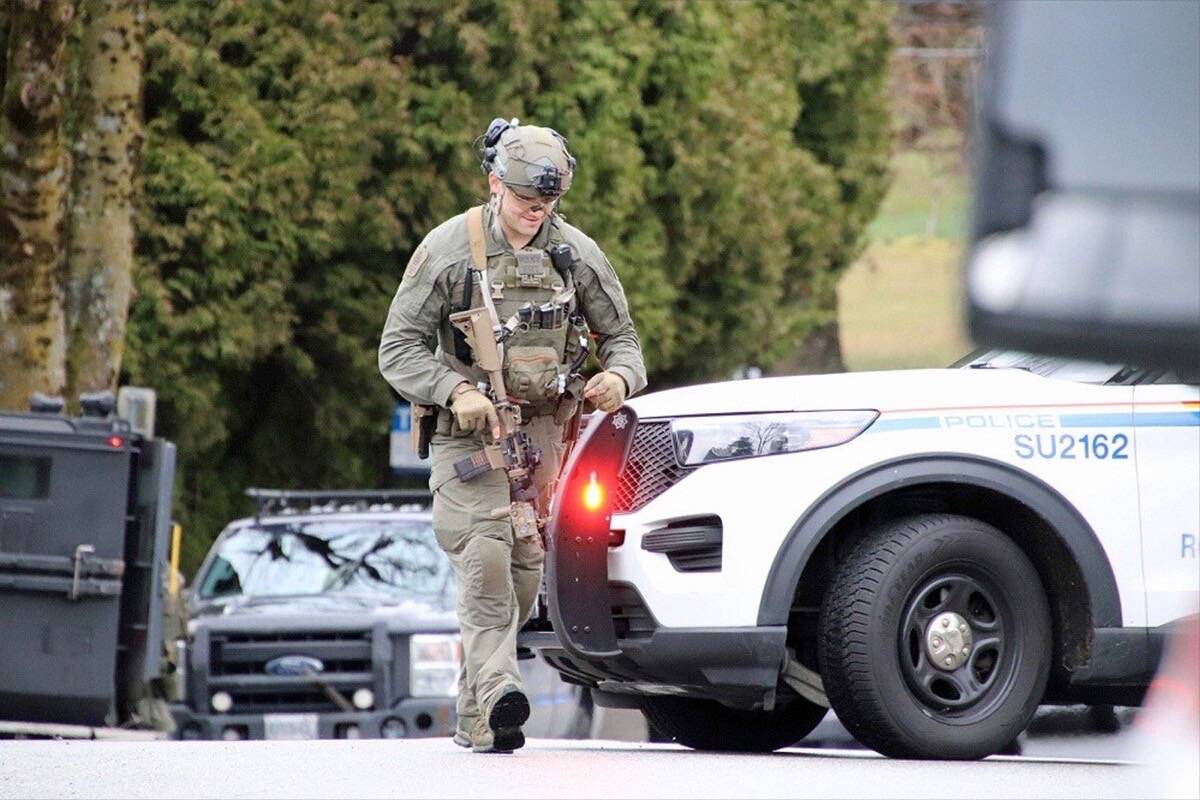 Later Thursday afternoon, Munn noted that while police had "provided some details" earlier in the day, "due to the fact that this was an evolving situation with many moving parts we have come to learn that some of those details have changed."
She said the Surrey RCMP had responded to a report concerning two men with a firearm, "contained" the residence and the Lower Mainland Emergency Response Team was called out.
"During the almost four hours police were on scene, multiple people were taken into custody. There were approximately 14 persons inside the residence with varying levels of cooperativeness," Munn told the Now-Leader.
"Police cleared the residence and confirmed that there were no injured persons inside, nor were any real weapons located. While inside the residence, police located a replica firearm, which they now believe was the basis for the call to police. All persons have been released from custody.
"As of approximately 12:13 p.m. police had left the scene," she said.
---

tom.zytaruk@surreynowleader.com
Like us on Facebook Follow us on Instagram and follow Tom on Twitter