EDITOR'S NOTE: This story includes phrases that readers may find upsetting.
Recent Twitter activity by Kelowna-Mission MLA and BC Liberal Party gender equity critic Renee Merrifield has some calling her out for promoting transphobic views and people.
One of the posts in question happened on Jan. 3, when Merrifield quote-tweeted Jordan Peterson, who is well known for refusing to use gender-neutral pronouns and amplifying transphobic rhetoric. In another instance, Merrifield liked a tweet from Kara Dansky, an author who has called transgender people "a lie."
Peterson's original tweet didn't have to do with transgender people directly, but concerned disciplinary action taken against him by the College of Psychologists of Ontario over public comments he's made. Peterson said in a column of his own after the fact that he is being accused of being transphobic, among other things.
In her own tweet, Merrifield called the college's action against Peterson "scary," adding that "when silence is demanded and threats made, democracy ends."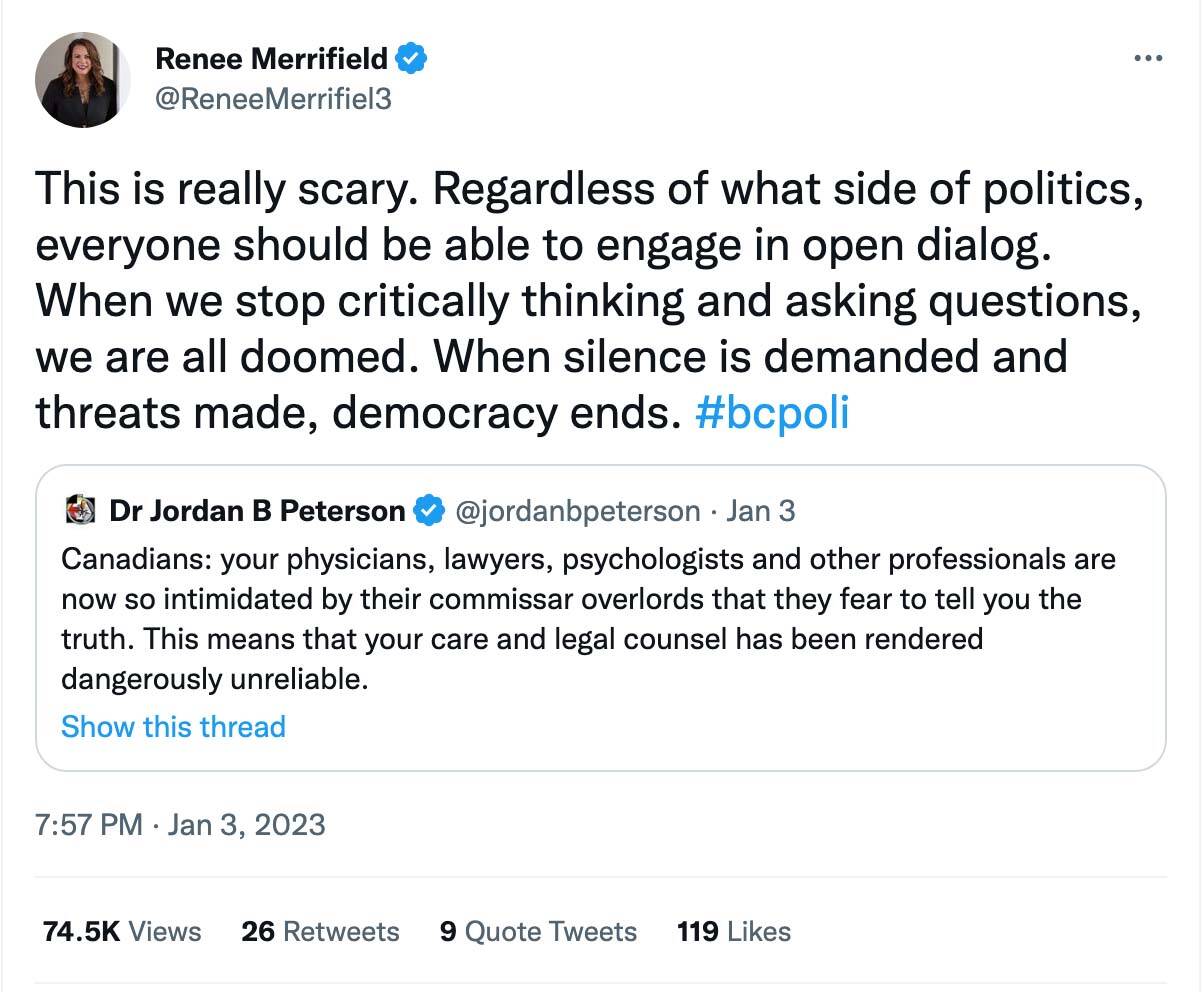 BC Liberal Caucus Press Secretary Andrew Reeve said in a statement Thursday (Jan. 5) that Merrifield doesn't support Peterson's views on transgender people, nor his refusal to use gender-neutral pronouns.
But Simon Fraser University sociology professor Travers (who goes only by their last name) said just the action of promoting people like Peterson is dangerous.
"It normalizes anti-trans sentiment," they said in an interview.
The Jan. 1 Dansky tweet Merrifield liked is equally concerning to Travers. In it, Dansky called a U.S. Court of Appeals decision that bans transgender students from using school bathrooms that reflect their chosen identities "great news." Merrifield has since unliked it.
"Once she saw it being incorrectly interpreted as her opinion with those screenshots circulated by the NDP, she wanted to distance herself from it," Reeve said.
Travers said they don't believe Merrifield was ignorant to what she was doing by liking the tweet, though.
"And if they are ignorant, they have no excuse for it. Public officials need to be held to a higher standard."
Concern over Merrifield's actions was originally brought to light by Chilliwack-Kent NDP MLA Kelli Paddon, who called for the BC Liberal Party to remove Merrifield as gender equity critic.
I'm disgusted to see Kevin Falcon's critic for Gender Equity and Inclusion promoting transphobic views and defending Jordan Peterson, who is well known for his transphobia and sexism. @KevinFalcon - please remove @Reneemerrifiel3 as gender equity critic immediately. #bcpoli pic.twitter.com/z13yFW0Qzt

— Kelli Paddon MLA (@kellipaddon) January 4, 2023
The BC Liberal Party has said it will take no such action, though.
In her own response to the criticism, Merrifield tweeted an old clip of her commenting on the Transgender Day of Remembrance and calling her party allies of transgender people.
While the BC NDP attack me personally, I will continue to rise in the legislature and use my platform to advocate for trans rights. ##transrightsarehumanrights #bcpoli pic.twitter.com/S6Le5auzJe

— Renee Merrifield (@ReneeMerrifiel3) January 4, 2023
B.C. Housing Minister Ravi Kahlon compared the tweet to someone saying they can't be racist because they know a person of colour.
Ahh yes. "I read this statement so I can't be transphobic" is kinda of like "I can't be racist because I know a guy.." Playing to the fringe may help the BC Liberals with their base but it puts us back as a society. https://t.co/7LkktX1cJ7

— Ravi Kahlon (@KahlonRav) January 4, 2023
People online also raised concerns about some of the individuals and organizations Merrifield follows, which use language like "detransitioners," "evidence-based care," "a woman is an adult human female," and "#IStandWithJKRowling" in their Twitter bios.
Travers said this is all language that indicates transphobic views. "Evidence-based care" in particular is used by groups who are against gender-affirming care, which Travers said is all part of a dangerous movement of deliberate misinformation.
"I think people who aren't really following the discourse won't understand the significance, because they don't recognize that there's a very, very well organized and well funded anti-trans movement."
They said they would be seriously worried if the BC Liberal Party took power and Merrifield was in charge of decisions for gender equity files.
"I find it terrifying, I truly do. Politicians actually have the power to impose policies that are deeply concerning."
The BC Liberal's press secretary said Merrifield has a long history of supporting gender-affirming care. Black Press Media requested an interview with Merrifield but was directed to the party's press secretary.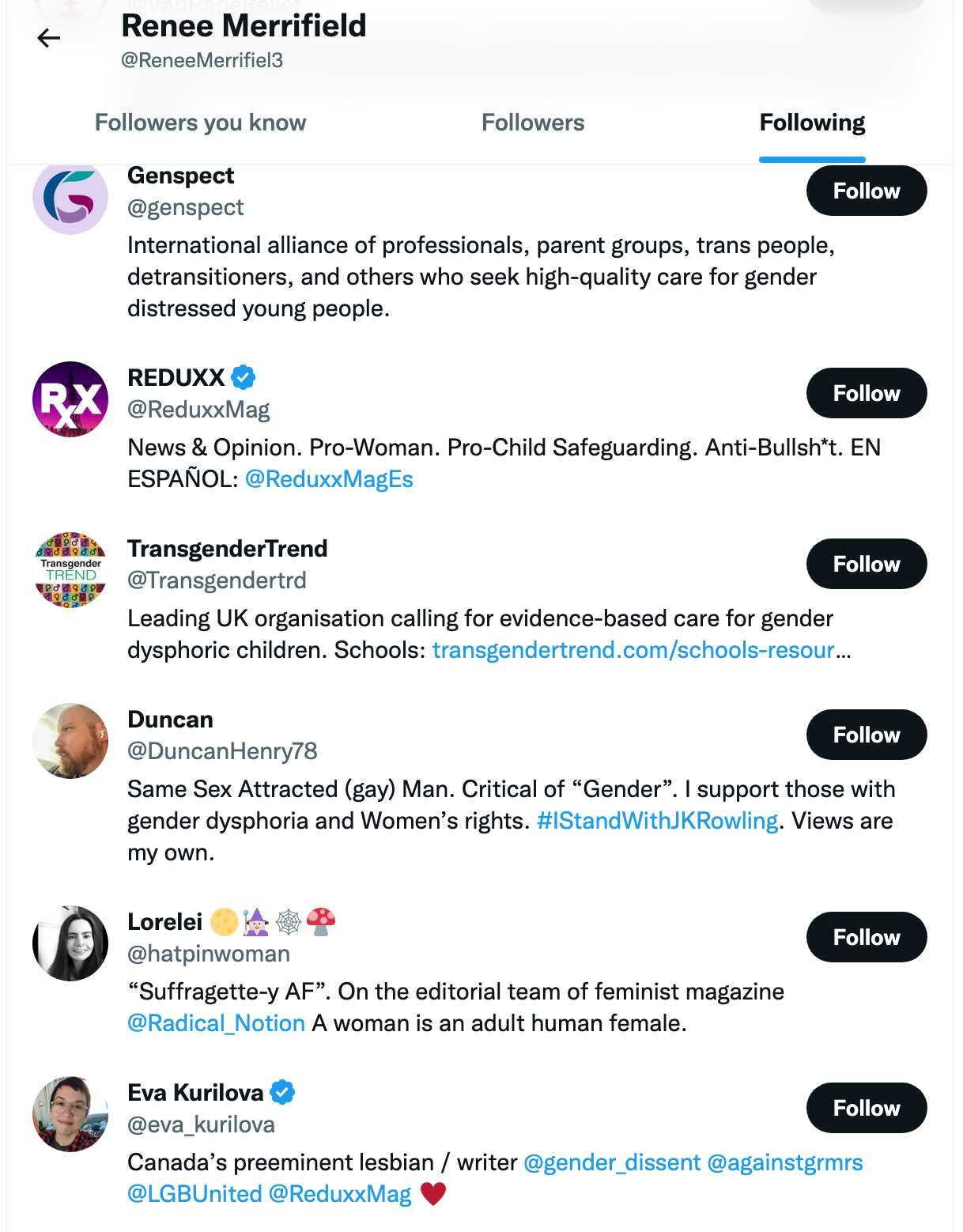 ---
@janeskrypnek
jane.skrypnek@blackpress.ca
Like us on Facebook and follow us on Twitter.