Imagine travelling on your own at 16, it's the first time you've flown without your parents and the airline loses your bag.
Colleen Derkatch says that was the case for her daughter's boyfriend when they flew from Toronto Pearson Airport to Kelowna, with a stop in Calgary.
The group flew with WestJet on Dec. 27, for a vacation at Big White.
Derkatch says a shadow was cast over their holiday once they arrived in Kelowna, without luggage in tow which had included toiletries, clothes, holiday gifts and items of sentimental value.
More than two weeks later and WestJet still hasn't given Derkatch any straightforward answer as to where the bag might be.
16 days later, I went to @ylwkelowna to investigate our lost @WestJet bag, since I keep getting different answers. 1st stop: check-in counter. Agent insists bag was sent to @TorontoPearson on Jan 5. 2nd stop: baggage counter. Agent says no evidence it ever left @FlyYYC. 👀🍿

— Colleen Derkatch (@ColleenDerkatch) January 12, 2023
"If you go through their official tracking system the bag location is unknown. I've been trying to get support on Twitter and they say the same thing, 'we have no idea where your bag is.'"
Derkatch says she has confirmed there are at least two different baggage tracking systems and Central WestJet support says it only has access to one.
"The mother of… my daughter's boyfriend went to Pearson on the 30th because she was really upset the bag had still not turned up and they told her there that the bag had never left Toronto and that it was actually in a storage room. They took her into this back storage area and she said that there were bags stacked to the ceiling everywhere she looked. She said the agent pointed to a stack of bags and said 'his bag is in this batch and we should be sending that batch out in the next day or two, it should arrive by Jan. 1.'"
However, the bag still didn't arrive.
Derkatch says that's when she learned from others that bags weren't showing up in the WestJet tracking system and instead people were finding their suitcases on the floor at Kelowna International Airport.
"We're up at Big White, we have no car."
With no support from WestJet, Derkatch says the ski resort proved more helpful in tracking bags down.
"Big White Centre Reservations said that hundreds of guests had lost bags and that WestJet and Air Canada were sending bags up with the Big White shuttle and then the centre reservation staff would take them to deliver them to people. Frankly, we got better information about what was happening with bags from Big White than we ever did from WestJet."
At this point, Derkatch says they were confident the bag was at YLW and just hadn't been scanned into the tracking system.
Yet, that wasn't the case and the bag remains missing.
Derkatch says they've been told many conflicting things as to where the bag could be - from never having left Toronto to being stuck in a Calgary Airport storage room to having been flown back to Toronto to have arrived in Kelowna.
"I tried to talk to WestJet support about this and I said, 'OK look, we've been given conflicting information. Why?' And no one has been able to answer that question."
Derkatch's husband, daughter, and the daughter's boyfriend have flown back to Toronto already, without even attempting to check bags. They searched the floors of Pearson with no luck finding the teen's lost luggage.
In a final attempt before flying home, Derkatch went to the Kelowna Airport on Jan. 11 to speak to a WestJet representative.
"You get very different information when you're at the airport than when you're on the phone or when you're on Twitter.
In speaking with a representative she was told the suitcase was sent to Toronto on Jan.5 and was even given a flight number.
"I said, 'well no bag ever arrived.' She's like 'I don't know what to tell you, but it was sent," explained Derkatch.
Derkatch says she kept her family's ski equipment with her at Big White, after everyone else had flown back to Toronto, and purchased Air Tags to place on the luggage before she flies on Saturday (Jan. 14).
"I don't trust WestJet with our stuff. There are thousands of dollars of equipment, it's specialized."
WestJet has a policy on its website stating that if a bag is lost for more than 21 days the airline's liability is limited to approximately $2,300 per passenger.
"That wouldn't replace our gear."
Derkatch says WestJet refused to reimburse the prepaid checked bag fees for her husband, daughter, and daughter's boyfriend who flew home several days ago without checked bags and won't cover costs for her to check the bags on Saturday when she flies home.
"And then instead of apologizing for losing the bag or anything else, they lectured me about using Air Tags.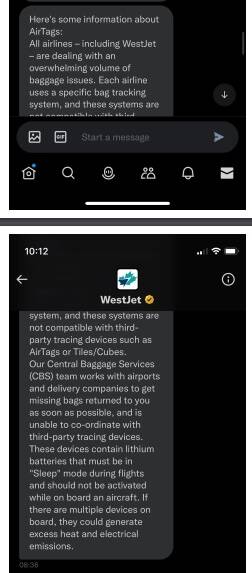 Air Tags contain lithium batteries, which is outlined as a hazardous good, however many travelers worried about lost luggage have used them without issue.
WestJet confirmed in an email that they do not prohibit use of Air Tags in checked bags.
"I feel like WestJet has really just dropped the ball on customer support. The fact that we've had to invest so many hours to try to find out anything about where our bag is and the fact that there are different systems, it just feels like you're being gaslighted all the time. They say 'well we don't know where your bag is.' And I'd say 'OK but an agent at the airport gave us a flight number.' 'We don't know what that means.' This is like literally their job."
Derkatch says she understands there have been issues with weather, baggage belts, and backlogs, but she was told Kelowna and Calgary airports appear to have caught up.
"Canada is a country of winter, so I don't think it should be that big of a surprise that there were storms. The holiday season is always really busy, so I don't know… When you're 16 days out there should be more information."
With her flight home just days away, Derkatch says she is worried about their ski equipment even with Air Tags attached.
WestJet was not available to comment.
---
@thebrittwebster
brittany.webster@blackpress.ca
Like us on Facebook and follow us on Twitter and subscribe to our daily and subscribe to our daily newsletter.