Pursuant to the provisions of Section 493 of the Local Government Act, Council of the City of Mission will, at its regular meeting on Monday, March 6, 2023 at 6:00 p.m. in the Council Chambers of the Municipal Hall, 8645 Stave Lake Street, Mission, BC, consider approving the issuance of a proposed Temporary Use Permit (TP22-012).
The purpose of the proposed Temporary Use Permit is to allow a self mini-storage facility using metal shipping containers for a 3-year term on the subject properties located at 33363, 33381, and 33389 Harbour Avenue, 7040, 7042, 7046 and 7050 Durieu Street (see maps below).
Please note this temporary use permit application was re-scheduled due to an amendment to increase the total number of shipping containers to 55.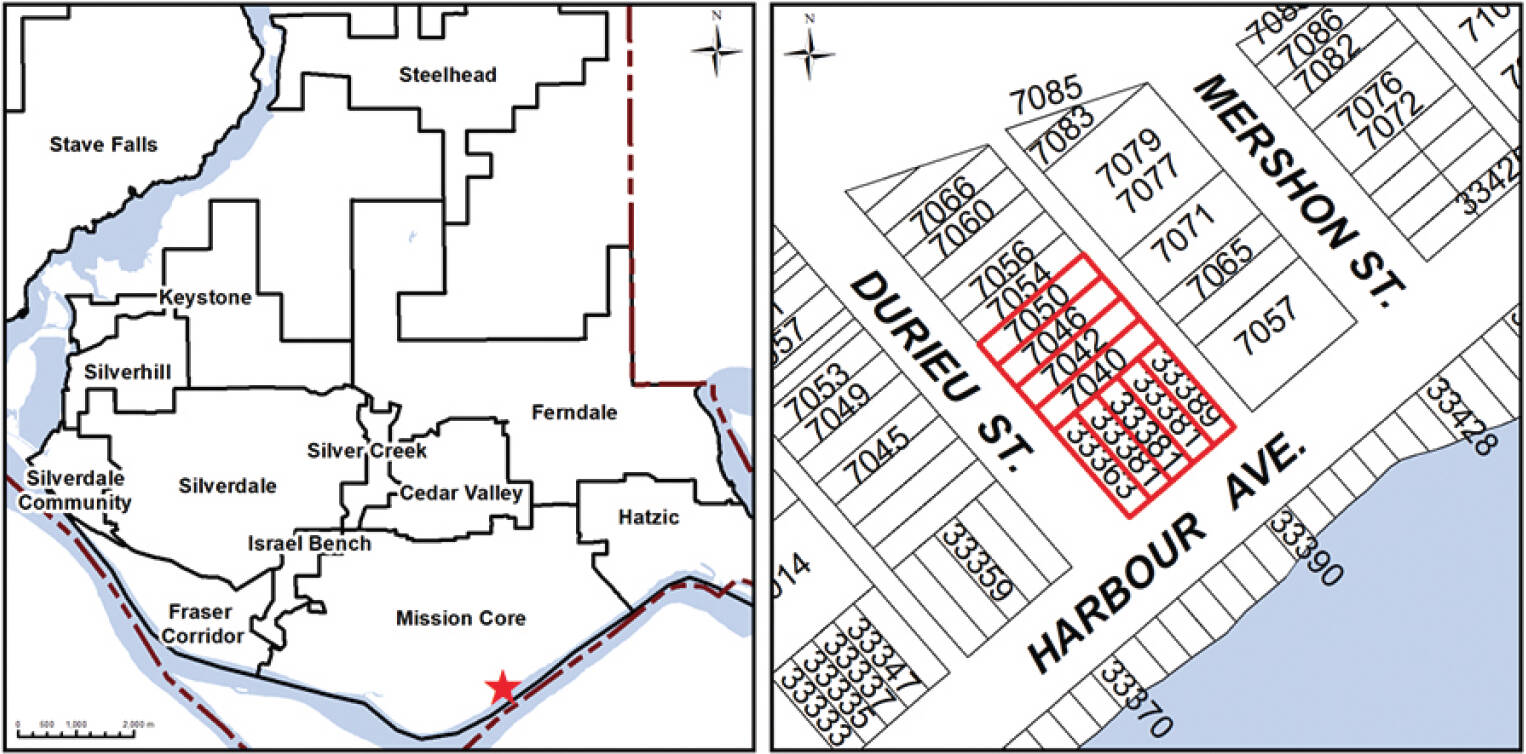 Copies of the proposed Temporary Use Permit may be inspected at the City of Mission, Welton Common Building, 7337 Welton Street, Monday to Friday, excluding statutory holidays, from 8:00 am to 4:30 pm from Friday, February 24, 2023 to Monday, March 6, 2023.
All persons who believe their interest in property is affected by this proposal will be afforded a reasonable opportunity to be heard by written presentations or submissions. Please note that your comments must be received by 4:00 pm on Friday, March 3, 2023.
Your concerns and comments will be provided to Council verbally by staff.
You may forward your submission by:
email to planning@mission.ca
regular mail to Box 20, 8645 Stave Lake Street, Mission, BC, V2V 4L9
phone 604-820-3748
For further information regarding this proposed Temporary Use Permit please contact the
Planning at (604) 820-3748.
Jennifer Russell | Corporate Officer