If you're looking for an affordable flooring option that can withstand the wear and tear of kids and pets – and looks good doing it – it's time to consider today's laminate.
Durable, low-maintenance, affordable and available in an endless supply of styles and designs, some laminate floors are even water-resistant and water-proof, meaning they can be used throughout the home.
"Laminate floors have undergone a lot of significant improvements in recent years," says Ed Swanson, owner of Atlanta Flooring in Mission."They're a far cry from where they started and are worthy of serious consideration by home owners for a number of reasons."
What are Swanson's top five reasons to give laminate floors a closer look?
Affordability: Love the look of hardwood floors but not so in love with the price? Laminate floors offer an affordable solution to mimicking the look you want at the price you can afford.
Durability: Modern laminate is scratch-, stain- and dent-resistant making it an excellent choice for busy families.
Low-maintenance: A quick sweep or vacuum, followed by a mop and you're done, it doesn't get easier then that.
Easy to install: While not all floors are DIY friendly, laminate certainly is, requiring no adhesives or nails – it can even be installed over existing flooring.
Water-resistant and water-proof options available: One of the most appealing reasons to consider modern laminate, especially in bathrooms, kitchens and laundry rooms, is the option to pick a style that not only compliments your home's unique design and budget but offers the added bonus of being water-resistant or even water-proof.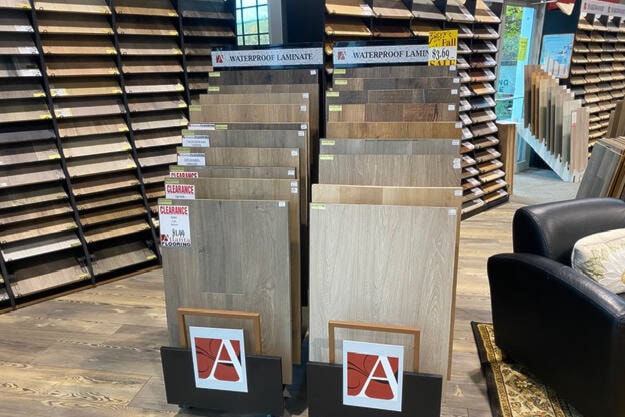 "Laminate floors can be a great choice for an affordable, durable flooring product with a wide variety of styles and designs," Swanson says. "We currently have over 100,000 sq.ft. of water-resistant laminate in stock and on sale, making now a great time to wrap up any last-minute renovations prior to the holidays."
For details and more design inspiration, visit Atlanta Flooring in Mission at #101-7057 Beatty Dr. or online at atlantaflooring.ca. Follow them on Facebook for additional tips, tricks, deals and promotions!
READ MORE from Atlanta Flooring
How one young rhino found a gig as a carpet durability tester
Add a touch of elegance to your West Coast home with these European-inspired floor designs
Pros and cons for the 3 most popular flooring materials